Concert Reviews
---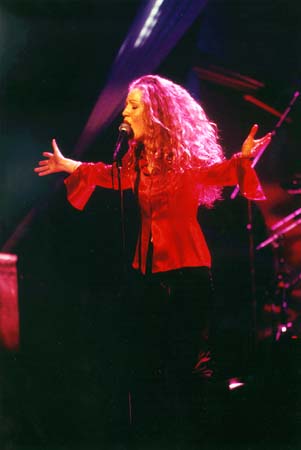 Here's A Review By Barbara:

Here is a review of the Amanda show I saw in Kelowna, BC last week.  It was quite
special because it was the very last date of the Amanda tour which lasted
almost 2 years (I guess that means we can cross our fingers for a new
album...please please please...) Her opener was the Philosopher Kings (not
my favourite opener that's for sure...their lead vocalist seemed so full of
himself prancing around half naked flaunting muscles that didn't
exist...their guitar player on the other hand could rock like nobodys
business...and their drummer (like most drummers!) was great looking...so
they weren't a total waste.)Being the last night of the tour Amanda's band
had decided to play some practical jokes on the Kings...right when they were
about to begin a song Amanda's band sent a pizza guy on stage saying he was
delivering a pizza to the audience from Amanda! ...then when they were on
their last song of the night her roadies came on stage and began hauling
away their instruments...while they were still playing them!

Of course they got their revenge afterward...

Before they left the stage they said to the audience that they wanted to us
to sing happy birthday to her because it was her 18th birthday (not!) so we
did...as soon as she came out and finished "Fall From Grace" as she was
about to do "Let's Get Lost" suddenly the kings came back out with a pizza
with birthday candles in it and everyone began singing happy birthday to
her...it was hilarious!  Then one of the kings took out a bag of buns (the
small KFC-ish kind) and began pelting Amanda's drummer...it almost errupted
into a mass food fight!  

Well after things settled Amanda got right into the show.  She sang the
usual setlist with very few changes...mostly changes in how she introduced
the songs.  Her vocal performance on the other hand was the best I'd heard
yet...she was more lively (believe it or not she could actually be MORE
lively) and emotional..and her voice just echoed and carried over everyone.
There were 15 and 16 year olds dancing...as was I (at 19...and I'm not
ashamed of it either) My favourite part was when she sang Promises and
Dedicated it to Princess Diana...that song took on an even deeper meaning
when she sang it this time around.  At the end of the concert...during
Birmingham all the little kids 10-12 year olds rushed the stage...I would
have to but this security guard had been giving me nasty looks all
night...he was shorter than me..I could have taken him. :) Amanda ran to the
front of the stage and gave them all a hi five...it was so cute watching the
little girls shout ("She touched me! she actually touched me!") 

It was a great time.  Kelowna is a nice town...I spent the afternoon before
the concert shopping in a little record shop and a great little new age
bookstore.  It's right by the Okanagan lake so it's green and
pretty....didn't see Ogopogo though :(

---
Here is another concert review by Anthony Capriolo:

 I am a HUGE John Mellencamp fan and saw the 
"Mr. Happy-Go-Lucky" tour twice (theater and concert) and was absolutely
blown away by Amanda.  When I saw the concert show in front of 30,000
people at the Marcus Amphitheater it was stunning to watch an initially
indifferent crowd give Amanda a standing ovation by the time she was
finished.  Her live renditions of "Fall From Grace", "Let It Rain" and
"Birmingham" were excellent and she does one of the best covers I've
ever heard ("Castles Made of Sand").  It was the first time in my entire
life I walked out of a Mellencamp concert singing SOMEONE ELSE'S songs.
Unbelievable.
---
Of all the concerts I have ever attended, Amanda Marshall's was the first one that wasn't performed by a Classical musician. And even though I initially decided--quite impulsively, mind you--to attend this concert merely out of curiosity, I had changed my curiosity to fervent liking by the time the concert was over.
Chantal Kreviazuk opened the first half-hour of the evening. I had known little about her or her music, but I was most impressed that her performance was strictly a one-person act. She sang five songs and accompanied herself on the piano. And being a pianist myself, I watched her hands and listened to her singing at the same time.
Being from Winnipeg, Chantal mentioned Edmonton's generous help to Winnipeg's flood victims which brought plenty of applause from the audience. Overall, I felt she put forth a great performance. It was interactive and moving to see. Thanks a million, Chantal.
Then, after a half-hour of intermission, the auditorium lights dimmed, and the crowd went wild. The curtain rose to reveal Amanda's band. Then the moment everybody was waiting for finally arrived. Amidst the wild applause and screaming, Amanda bounded onto stage clad in a black outfit. (And no, they weren't black maternity clothes.) The band opened with "Fall from Grace," "Let's Get Lost," and "Let it Rain."
At this point, Amanda took a break to explain that she and her band had been touring and had little chance to be home. "But it's just so nice to be back in Canada," I remember her saying. "Now here's a song about road travel." It was the first time I had heard "Last Exit to Eden." Now I can't hear enough of it.
After the usual "Thank you" and sip of water, Amanda walked back into the spotlight carrying a guitar. "What is this?" she said. "I've never seen her with a guitar before." And with that, she acknowledged the acoustic guitarist for lending her his guitar for the opening bars of "Sitting on Top of the World." (By the way, does anybody know for sure if Amanda Marshall is left-handed? She strummed that guitar with her left hand and appeared to be playing air-guitar with her left hand whenever she wasn't holding the microphone.)
"I've been singing this next song since I've started singing in nightclubs. Here's 'Castles Made of Sand.'" In fact, all that extra practice singing "Castles Made of Sand" made the song sound extraordinary. I appreciate the fact that Amanda had included one of her earlier songs. It allowed me to become acquainted--at least partially--with the Amanda Marshall before her big fame. Call me weird, but I usually like to know something about the performer's origins.
Next came "Promises," which I believe is the best track off the album. "This next song is about the L.A. riots." And what a riot the performance was! I was on the edge of my seat by the time the song was over.
"Dark Horse" and "Beautiful Goodbye" followed. For anybody out there who has never heard either of these two songs, let me submit that they're both must-hears, especially if Amanda performs them live. They're must-hears on disc, but you can sense the emotional content trebles in the live versions.
"I've really enjoyed being here with you all tonight in Edmonton. I hope you've all had as much fun as I have. Here's 'Birmingham.'" And then came the longest version of "Birmingham" I had ever heard. It was the last song of the evening, and Amanda made sure to finish off the evening with a bang. What an amazing performance of "Birmingham" and tag-on finish. It sounded as if she was improvising all in the name of Freedom. And if you listened closely, you could tell that Amanda had had a strong connection with jazz by virtue of her scat singing.
By this time of the evening, I was beginning to expect a surprise. And a surprise is what I got. Amanda urged everybody to stand up and participate. The audience sang a few syllables here, a few syllables there, but in the end nobody could keep up with her. Amanda's final applause was deafening.
My main criticism had nothing to do with the actual performance. I felt that the stage engineer had connected too many microphones. I don't mind loud music, but I do get bothered if I'm forced to feel it through the floor. I also regretted not purchasing my ticket sooner, for my seat was pretty terrible and may have biased my impression. I do remember thinking that Amanda could have performed "Trust Me (This is Love)" too. After all, she had already sung nine of ten tracks from her record. It was too bad that she had only one left to perform. But hey, far be it from me to arrange Amanda Marshall's program. I guess she was probably pretty tired too. And perhaps "Trust Me (This is Love)" is not amenable to a live performance.
For all of you out there who haven't had the opportunity to see or hear Amanda Marshall live: you don't realize what you're missing. She's a sweet songbird on disc, I agree; but much more dramatic live. Her voice is powerfully rich; her stage mannerism in a league of its own. If I were to relive my experience at this concert, the only thing I would change would be to make sure I had somebody to go with. And Amanda, if you happen to read my review on the Internet, I want you to thank you so very much for a great concert and an even better evening.
---